A proven team of seasoned business operators, financiers and management consultants is the backbone of Kildare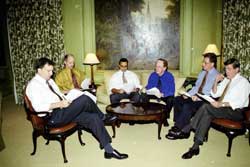 Enterprises, LLC. The breadth and depth of our team's management, financial and legal expertise is, we believe, truly unique in the mid-cap private equity industry.
KILDARE'S MANAGEMENT TEAM
T. J. Dermot Dunphy - Chairman
Allen M. Meisels - Principal
William H. Newell - Managing Partner
Mark A. Maurice - Financial Consultant
Stephen F. Kelly - Chief Financial Officer
Paul Avidon - President, Building Products Division
KILDARE'S INVESTORS / COUNSELORS
Kildare's investors are also its counselors. We are fortunate to have among our investors an array of business, investment and government experience. We count among our investors:
Active CEOs of Fortune 500 companies
Senior Managing Directors of well known international financial service firms
Senior Managing Partners of later stage private equity funds
Entrepreneurs
Business Educators
Together with Kildare's Management Team, these investors provide our firm with what we believe to be an unmatched resource pool of experience and assets in the lower middle market of private equity.